【精品】英文感谢信四篇
  我们眼下的社会,感谢信不再是罕见的`东西,写感谢信的时候要注意感谢内容的完整。写感谢信可马虎不得哦,下面是小编整理的英文感谢信4篇,仅供参考,希望能够帮助到大家。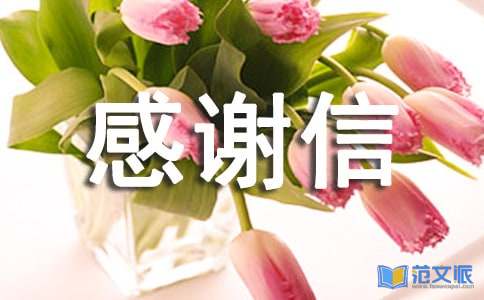 英文感谢信 篇1
  Dear Mr. Rogers,
  It is my great pleasure to show my hearty thanks to you for your hospitality and courtesy to me during my stay in London.
  Originally I only wanted to call on you and gave my father's regards to you, as it had been three years since you and he last saw each other. But you insisted that I stay in your house during my visit in London and took good care of my life as if I were a family member of you instead of the daughter of one of your friends. You really added greatly to my convenience and pleasure of the whole trip.
  Thank you again for your kindness and I hope that I will have the opportunity to return your charming hospitality.
  Yours faithfully,
  Wu Ting
英文感谢信 篇2
  XXX:
  Thank you very much for my birthday. I am very happy! This is the happiest in my life the first birthday. You are really a good friend of mine. I would also like your next birthday. I hope by that time, we can hurt our hearts Play fast. And can be delicious to eat. Birthday in the day, we all share faster! In short, I am very happy to play.
  Thank you for my birthday. Today is an unforgettable day for me! Finally, we wish the happy every day, good luck again and again!
  XXX
英文感谢信 篇3
  Dear Mr. X:
  Thank you very much for the interview yesterday. I learned a great deal about your company, its major projects, and its ambitious plans for future development in Guangzhou.
  I believe I am fully qualified for the work you described. My experience with ABC Corporation is directly related to the work you are offering. Also, my academic background and the training I received as an administrative assistant provide a strong base for further development.
  Thanks again for the interview. I look forward to hearing from you soon.
  Sincerely yours,
  XXX
英文感谢信 篇4
  letters of thanks 感谢信在西方,只要收到礼品,无论大小都要写封短信向馈赠者表示谢意。亲朋好友、邻居同事的关怀帮助或热情款待,以及你所收到的每一封祝贺信、慰问信等,都应该写一封感谢信。感谢信要写得真挚热情,让收信人读后感到心情舒畅,不要给人草率应付,冷漠待人的感觉。由于写信的对象千差万别,感谢信的内容也丰富多彩,因而用语也就不尽一致。
  常用句式:
  1. please accept my profound appreciation for
  2. i wish to express my sincere appreciation for
  3. i am most grateful to you for
  4. it is generous of you to show me so much consideration.
  5. i regret very much that i did not have an opportunity to thank you personally for
  6. this is to thank you again for your wonderful hospitality and to tell you how much i enjoyed seeing you once more.
  7. i hasten to thank you from the bottom of my heart for the kindness and hospitality you and your family accorded me all the while when i was in china.
  8. we deeply appreciate your good wishes and congratulation.
  10. i want to express my sincere thanks to you.
  常见结束语:
  1. with best regards to you, mrs. zhang, and the rest of your family
  2. looking forward to joining you at school as soon as possible.
  3. please give my best regards to ?
  4. i look forward to hearing from you soon.
  5. my best regards
  6. in the meantime, my thanks to you for your many kindnesses tome when i studied in los angeles, ?
  7. my best wishes
  8. it was good of you to take the time and trouble to write, and i sincerely appreciate your kindness.
  感谢信常用句:
  1. i am grateful to you for感谢
  2. i'm writing to thank you for
  3. many thanks for your kindness and hospitality. 多谢你的好意和好客。
  4. i must write and thank you for your kindness to me....
  5. it was very kind of you to do all this for me and i appreciate it more than i can say.你真是太好了,我感激不尽。
  6. thank you from the bottom of my heart.从心底里感谢你。
  7. again, i would like to express warm thanks to you. 再次向你表示谢意!
【【精品】英文感谢信四篇】相关文章:
2.★英文感谢信
3.感谢信英文
4.英文感谢信
5.求职英文感谢信
6.英文的感谢信
7.有关英文的感谢信
8.英文感谢信4篇